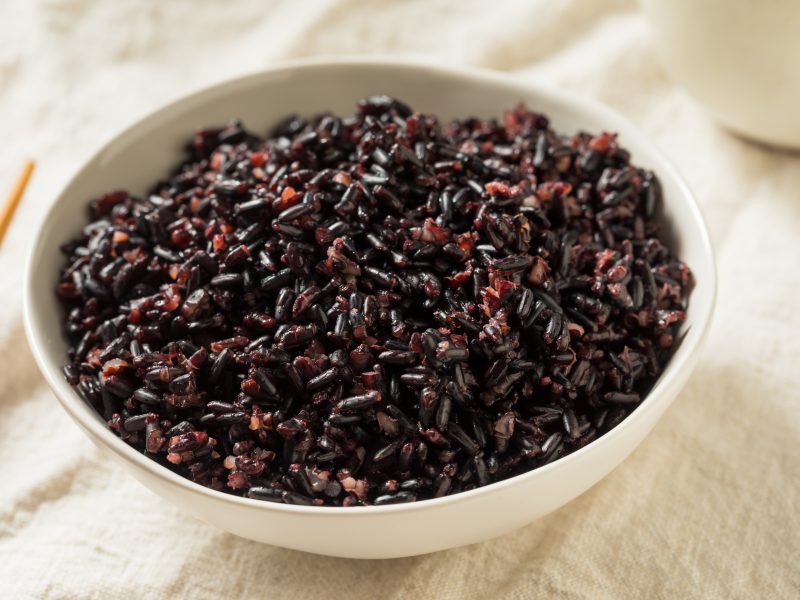 Lotus Foods: Do The Rice Thing™
Summary
For more than half of the world's population, rice is a dietary staple, a key crop that provides vital nutrition and sustenance.
Over 25 years ago, Lotus Foods' founders Caryl Levine and Kenneth Lee began their journey with rice. It was during a trip to China in 1993, when they first tasted a black rice called hei mei, grown in the Yunnan province. They fell in love with its flavor and texture, and by 1995, they had returned home and started a Bay Area based business importing Chinese black rice, and other rices from around the globe.
For more than half of the world's population, rice is a dietary staple, a key crop that provides vital nutrition and sustenance. Rice is one of the most widely cultivated and consumed crops on the planet, but its production often comes at no small cost to the environment or the farmers involved in growing it. Recognizing both the importance and impact of rice, Lotus Foods has made it their mission to change how rice is grown around the world. They promote organic agriculture throughout their supply chain, support small-scale farmers using innovative growing practices, and in 2016, they became a certified B Corp, further solidifying their commitment to use their business as a force for good.
Conventional Rice Production
Much of the world's rice is grown in flooded rice paddies. These flooded conditions require a tremendous amount of water, and are ideal anaerobic environments for methane-producing microbes. Project Drawdown estimates that, because of these practices, rice cultivation is responsible for at least 10 percent of agricultural greenhouse gas emissions and 9 to 19 percent of global methane emissions (Project Drawdown). Because these growing conditions are so ubiquitous, many are surprised to hear that rice does not require constant water coverage to grow, and that flooding is actually used as a form of weed control.
In addition to the environmental impact of growing rice in flooded paddies, there is also a very human toll. Women play a major role in rice production, and often handle the highly physical tasks of transplanting rice seedlings from the nursery into the field and weeding. This work is incredibly difficult, and often requires that women work in backbreaking postures for hours while their feet are immersed in standing water. These conditions put the women at risk for muscle aches, pains, and spinal issues, and exposes them to parasites, leeches, and malarial mosquitos. Additionally, in conventional systems, the workers are exposed to chemical fertilizers and pesticides.
More Crop Per Drop™
Concerned by the practices, Lotus Foods decided to partner with smallholder farmers who were willing to radically change the way they grew rice. They adopted a set of practices from the System of Rice Intensification (SRI), an agroecological method that focuses on boosting rice production by optimizing management of water, soil, and inputs. Lotus Foods has dubbed their organic version of SRI More Crop Per Drop™, and they estimate that by using the system, farmers can triple their yields using up to 50% less water on average and 80-90% less seed. The key tenets of the system are:
• Planting young, small seedlings to reduce transplant shock
• Maintaining low plant density to minimize competition between plants for nutrients, and planting in rows to make weeding easier
• Keeping soil moist but not flooded, and promoting soil health for improved nutrient and water holding capacity
These growing practices benefit workers in a number of ways. Transplanting fewer, smaller seedlings is far less time consuming for the workers, and does not require the same arduous physical labor. Additionally, planting in organized rows makes it possible for workers to use mechanical weeders in an upright position, instead of bending over for hours and weeding manually. Lastly, this system eliminates the need to work in standing water, and makes more water available for other crops and community needs.
Continued Impact
In 2020, Lotus Foods' Brown and White Basmati rice became the first rice to become Regenerative Organic Certified (ROC) by the Regenerative Organic Alliance (ROA). ROC standards use USDA organic certifications as their baseline, and add additional requirements for soil health, animal welfare, and social fairness. Lotus Foods' commitment to continuous improvement is inspiring, and we are proud to carry their offerings on our grocery shelves and in our Bulk department.