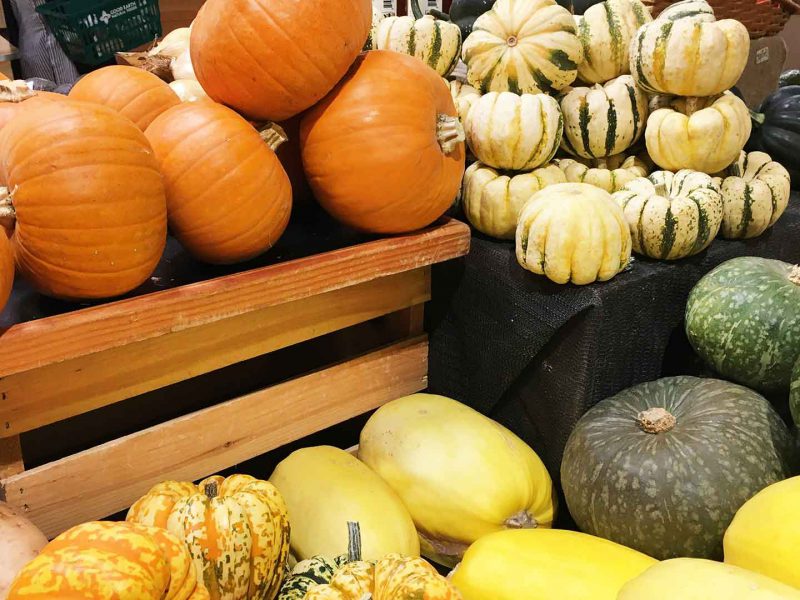 Summary
Organic winter squash is a healthful and delicious addition to any cold-weather meal. Winter squashes are incredibly rich in nutrients and have a significant concentration of carotenoids that can be converted into active forms of Vitamin A. They are also rich in Vitamin C, Vitamin B-6, magnesium, potassium and manganese. Additionally, winter squash is a great source of antioxidants, fiber, and omega-3 fats.
Acorn Squash
Named for its acorn like shape and relatively small size, acorn squash features rich green skin and a mild flavor. Try cutting it in half and roasting with olive oil, salt, and pepper. Acorn squash also makes an excellent vegetarian entree when stuffed with cooked rice, sautéed mushrooms, onions, and peppers.
Buttercup Squash
One of the sweetest varieties of winter squash, buttercups are known for their rich, orange flesh and creamy texture. Try cutting it into large chunks, tossing with coconut oil and maple syrup, and roasting until caramelized.
Carnival Squash
Similar in flavor and texture to a sweet potato, this smaller variety of winter squash is best cooked whole, or split in half and roasted. Try scraping out the flesh and pureeing with vegetable stock to create a rich and hearty soup.
Delicata Squash
Known for its creamy flesh and mild flavor, delicata squash is one of the smallest members of the winter squash family. To prepare, leave the skin on and cut in half lengthwise. Scoop out the seeds and cut squash into 3/4 inch slices. Toss squash with olive oil, salt, and pepper. Roast and finish with balsamic glaze, crumbled feta, and spiced pepitas.
Spaghetti Squash
A popular pasta alternative, spaghetti squash comes in a distinct oblong shape. When baked, its flesh will separate into long, thread like pieces after scraping with a fork. We recommend topping it with your favorite sauce or tossing it in brown butter, Parmesan, and fried sage leaves.
Squash Tip!
Don't toss the seeds! All winter squash seeds are edible and contain substantial amounts of vitamin E. Separate from the pulp and toss lightly with olive oil, salt, and pepper. Spread out in a single layer on a cookie sheet and roast at 250° for 45 minutes. Mix seeds every 15 minutes to ensure even cooking.
Squash Grower Spotlight
We have an exclusive growing relationship with Claro Farm, located in nearby Petaluma. Claro Farm supplies us with much of our winter squash in November and December, and they also play a key role in our compost program. We take all of our pre-consumer, organic food waste to Claro, where it is used to make a high-quality, fungal compost. The compost takes a year to make, but it is worth the wait. When ready, the compost is spread on the fields of the farm to create a living soil, teaming with micro-flora. Many of the crops grown with this organic compost, like winter squash and garlic, come back to our store for sale in our Produce department or use in our kitchen.