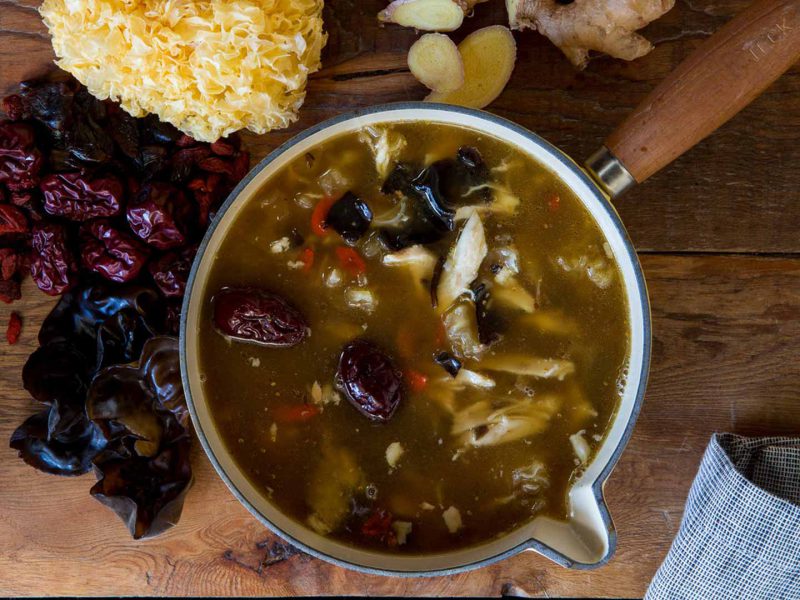 Mama Tong: Nutrition & Tradition
Summary
Bone broths have been a staple in almost every culture's culinary repertoire for thousands of years. The Ancient Greeks used broth as a digestive aid, and in Chinese medicine, broth has long been used to support healthy kidney function. Made by slowly simmering bones, vegetables, herbs, and spices together, bone broth is rich in healthful minerals like calcium, magnesium, and potassium. 
Lindsey Ott, the owner of Mama Tong Soup, began her bone broth journey shortly after her son was born. Though Lindsey was studying midwifery, and had always been passionate about caring for new families, her own pregnancy gave her a better understanding of what new mothers need.
After giving birth, she shifted her focus toward postpartum care.
During her twenties, Lindsey spent time working on farms in Hawaii, which instilled in her a deep appreciation for nourishing, organic ingredients. After moving to the Bay Area in 2013, she decided to build a business around her love of food and her desire to nurture new families. Lindsey worked to connect with like-minded entrepreneurs, and quickly came in contact with Jane Lin, the creator of Mama Tong. 
Lindsey offered to trade her time and kitchen assistance for an education in Chinese postpartum soups, and was shocked when Jane offered to sell her the business. She spent weeks working alongside Jane to learn more about her recipes and ingredient sourcing and, after perfecting the process, she relaunched the brand. Over the past few years, Lindsey has slowly made the soups her own, making adjustments to ingredient ratios and seasonings along the way. 
For Lindsey, time is an essential element in crafting Mama Tong broths.
She simmers her bone broths on low heat for forty eight hours, and adds her herbs during the last three hours of cooking to maintain their bright, fresh flavor.
She is careful to use the best ingredients available, and all of her broths start with filtered water as a base. She sources chicken bones and feet from Pitman Farms in Petaluma, California and uses pastured turkey bones in some of her broths. 
Mama Tong broths are produced in Berkeley, California and can be found in our Meat department. We are proud to carry three varieties including Turkey, Chicken, and Ginger Chicken.