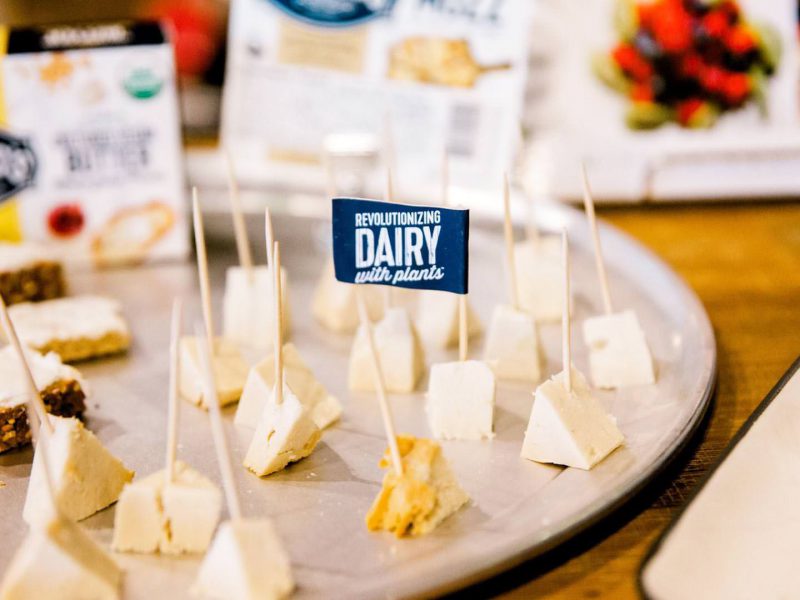 Miyoko's Creamery: Phenomenally Vegan
Summary
Vegan chef, author, and entrepreneur, Miyoko Schinner, is changing people's perceptions about vegan foods one plant-based cheese at a time. In 2014, she founded Miyoko's Creamery with a goal of creating a line of organic, non-dairy products as decadent as their dairy-based counterparts. Using traditional creamery cultures, aging, and fermentation, Miyoko's transforms organic ingredients, like nuts and legumes, into rich and flavorful butter and cheeses.
In just a few short years, Miyoko's Creamery has gained national popularity, and the company has gone from a small, four-person operation based in Miyoko's home kitchen, to a thriving Sonoma County business. The company recently moved into a state-of-the-art, thirty thousand square ft. facility, allowing them to increase their production capabilities and focus on developing new, delicious products. 
We carry a number of certified organic products from Miyoko's Creamery in our Refrigerated department.
Vegan Butter
Made from organic cashews and coconut oil, this vegan butter browns, melts, and spreads beautifully. Because it is a cultured product, it has a tangy flavor, reminiscent of traditional, European-Style dairy-based butters.
Vegan Mozzarella
This cashew-based mozzarella features a firm, but creamy texture that pairs perfectly with tomatoes in a caprese salad. We recommend melting the smoked version on your avocado toast, or using it in a roasted vegetable pasta dish. 
Vegan Cheese Wheels
Available in a variety of gourmet flavors, these cashew-based cheese wheels are the perfect non-dairy offering for any cheese plate.
Vegan Roadhouse Cheese
Spreadable and superb for snacking, this plant-based cheese dip is the perfect addition to a veggie sandwich or crudite platter.
Vegan Cream Cheese
Rich, thick, and creamy, Miyoko's cultured vegan cream cheese has a distinct tang that mimics traditional cream cheeses.