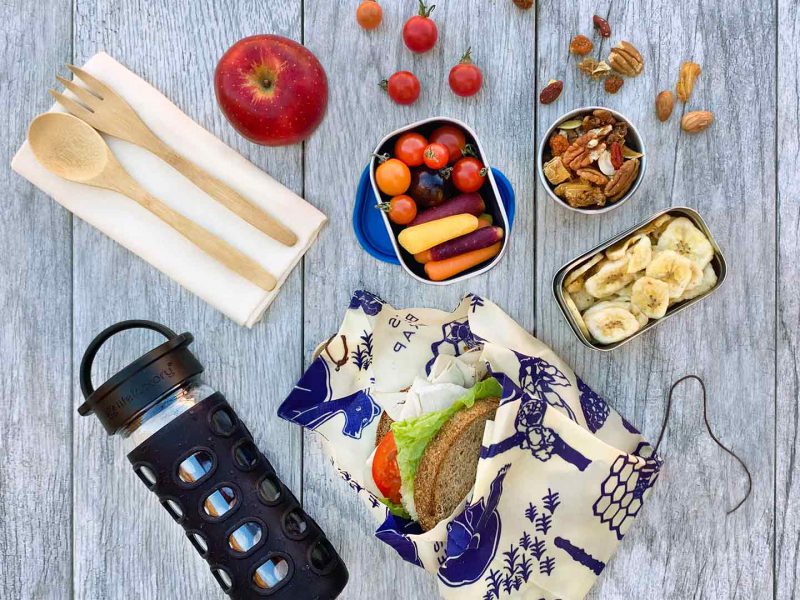 Summary
Back to school planning offers an excellent opportunity to teach your family about making planet-friendly choices. We've teamed up with Sustainable Fairfax to share some of our favorite products and tips for revamping your child's lunchbox with waste-less solutions.
Instead of single-use juice boxes, invest in a reusable bottle for your child. Look for options that can be easily cleaned, and let your child select a fun design that they'll be excited to use on a daily basis. Cloth napkins and reusable cutlery kits round out the environmentally friendly lunchbox. We recommend grabbing a few of each so that you don't need to wash them every day.
Shop with the Seasons
Organic fruits and vegetables make for easy, packaging-free snacks. Look for local, in-season items whenever possible. Good Earth produce signs include the number of miles that each piece of produce travels to reach us. While shopping, teach children about supporting local farmers by having them find items that have traveled the fewest number of miles to get to our store.
Plastic-Free Sandwich Wrap
Made from organic cotton, beeswax, organic jojoba oil, and tree resin, Bee's Wrap is a washable, reusable, and compostable alternative to plastic wrap. Use it to hold a sandwich or your child's favorite snack.
Buy in Bulk
We offer a number of organic snacks in bulk like trail mix, banana chips, and dried fruit. Bulk items can be easily re-packaged into single servings in reusable metal tins, available in our Housewares department. Teach kids about reducing packaging waste by getting them involved in bulk shopping. Have them bring their own reusable jars to use in bulk, and let them find and write the PLU codes for your bulk purchases.