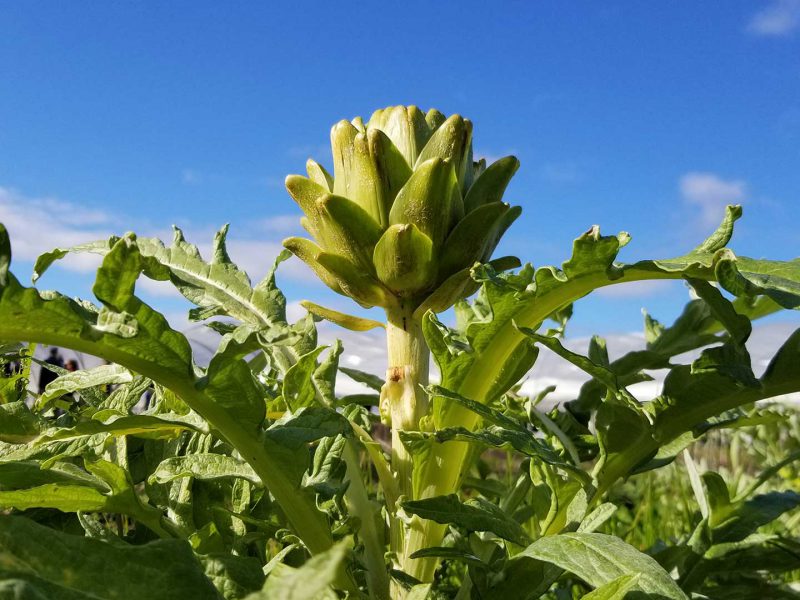 Summary
In late January, the 40th Annual EcoFarm Conference was held in Pacific Grove, California. Using its unique farmer-to-farmer education model, the EcoFarm Conference brings the organic community together for a week of inspiring workshops, keynote addresses, farm tours and networking events.
The conference provides an excellent opportunity to learn about organic issues and practices directly from organic growers.
Several Good Earthlings were in attendance this year, including some of our Produce staff members, Category Managers for Grocery and Specialty, and Good Earth Partner Mark Squire. Below are some of our highlights from this year's conference.
Farm Tour of the Central Coast
During this all day bus tour of the Central Coast, our staff members were able to tour several organic farms and see, firsthand, the practices employed by some of our favorite growers. 
At Lakeside Organic Gardens in the Pajaro Valley, owner Dick Peixoto explained that he plants flowers like sweet alyssum, pictured on the left, amongst his crops to attract beneficial insects that eat pests. In his two decades of farming, Peixoto has found that these beneficial insects are more effective at controlling pests than chemical pesticides. 
At JSM Organics, farmer Javier Zamora discussed his soil enrichment project, as well as his transition away from plastic packaging for his berries. While berries are notoriously difficult to transport and store in anything other than plastic, Javier is packaging a number of his berry varietals in a wax-free, recyclable cardboard package. We are excited to see growers moving toward more sustainable packaging options, however, we recognize the challenges they face when making these changes. Javier revealed that his cardboard package costs him five times more than the plastic containers he was previously using.
Daily Keynotes
Each day of the conference featured a different keynote session from experts within the ecologically-minded farming community. 
During a keynote titled "The Past, Present, and Future of Organic", kamut farmer and author, Bob Quinn, explored the origins of organic certification and the growth of the organic industry over the last two decades, as well as the importance of supporting domestic farmers in their switch from conventional to organic agriculture.
During her address on the future of food and farming, world-renowned scholar, author and scientist, Dr. Vandana Shiva, emphasized working with nature and embracing the diversity of the natural world as paramount in securing the future of our food system. 
Workshops
In addition to the daily keynote sessions, the EcoFarm Conference also featured over seventy small workshops covering a wide array of topics.
Soil health was a major theme throughout the workshops, with dedicated sessions on the benefits of reducing tillage, selecting cover crops, sequencing crop rotations for maximum benefit, and boosting biodiversity on farms. During these sessions, small growers, including a number of the growers we feature in our Produce department, shared the innovative practices they are using to build their soils. It was clear from these sessions that small, organic farmers are truly on the cutting edge of what's possible when agriculture is used to positively impact our planet, and further highlighted for us the importance of supporting them in their efforts.
Fair Trade programs were also a much discussed topic at EcoFarm, and we were excited to hear about how some of our produce suppliers, like Equal Exchange and Covilli, are using the small price premiums paid on Fair Trade produce items to positively impact the lives of their workers.
Using these Fair Trade premiums, Covilli is able to operate a large health center for their workers, and provide them with healthy meals for their families at a discounted rate.
This year's EcoFarm Conference served as a powerful reminder of why we do what we do. We are inspired by the work organic farmers are doing to grow a healthy food system and a healthy world, and we look forward to learning more from them next year. For more information on the Ecological Farming Association and the EcoFarm Conference, visit ecofarm.org.