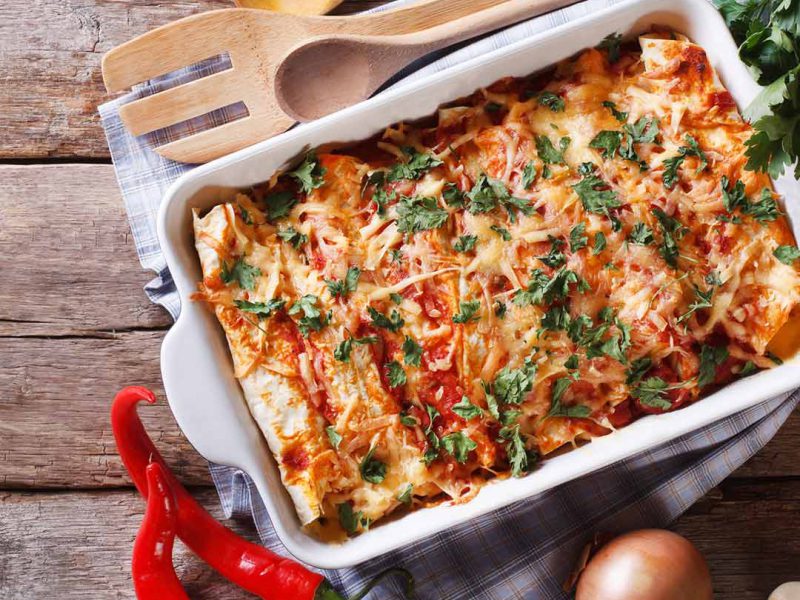 Good Earth Butternut Squash Enchiladas
2 ½
cups
organic butternut squash, diced
¼
cup
organic red bell pepper, diced
¼
cup
organic yellow onion, diced
2
tbsps.
organic dried oregano
½
tsp.
organic chili powder
½
tsp.
organic chipotle powder
1
cup
organic feta cheese, crumbled
2
cups
organic cheddar cheese, shredded
2 ½
cups
organic enchilada sauce
1
Preheat oven to 350ºF. Lightly grease a 9x13 baking dish and set aside.
2
Sauté the squash, bell pepper, and onion in a large sauté pan for 5-7 Minutes over medium-high heat.
3
Add spices, all the feta and half of the cheddar and cook for another 5 Minutes until the cheese is melted.
4
Put half of the enchilada sauce in the greased dish.
5
Place the squash mixture in the middle of a tortilla. Roll up and place seam-side down in the dish.
6
Top with remaining enchilada sauce and cheese.
7
Bake for 15-20 Minutes until warmed through.