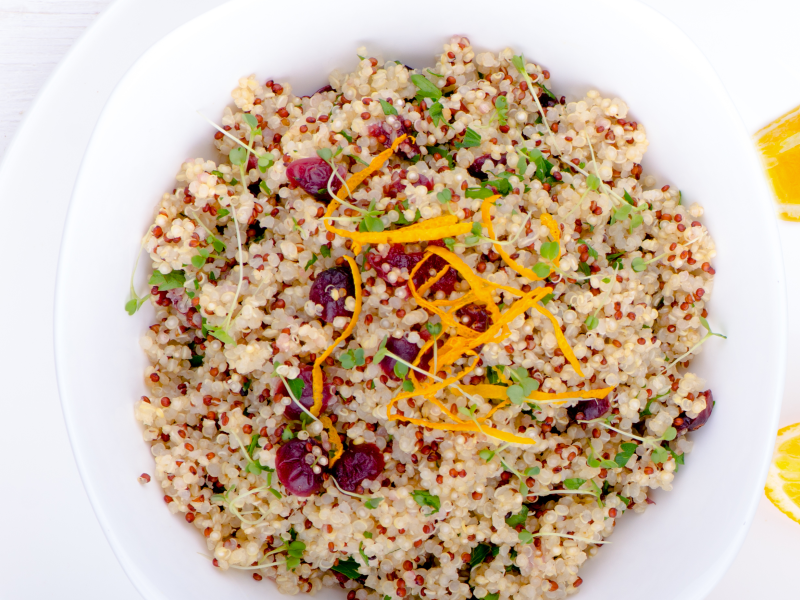 Good Earth Cranberry Quinoa Salad
Summary
Dried cranberries and lemon zest add a touch of holiday brightness to this hearty quinoa salad. This dish can be made in advance and stored in the refrigerator for an easy side dish, or a simple lunch during the busy holiday season.
Ingredients
½
cup
organic celery, thinly sliced
½
cup
organic carrot, diced
½
cup
organic dried cranberries
4
tbsps.
organic italian parsley, chopped
4
tbsps.
organic mint, chopped
4
tbsps.
organic green onion, chopped
⅓
cup
organic olive oil
⅓
tsp.
organic black pepper
¾
tsps.
lemon juice (about 1⁄2 lemon)
1
Rinse quinoa thoroughly. Mix the quinoa and water in a small pot, bring to a boil, and reduce heat to a gentle simmer. Cook for 10-15 minutes, or until all the liquid is absorbed. Fluff quinoa with a fork, and set it aside to cool completely.
2
Mix quinoa, celery, carrot, cranberries, parsley, mint, and green onion in a large bowl.
3
Whisk lemon zest, olive oil, peppers, salt, and lemon juice until combined. Pour over quinoa mixture and toss.