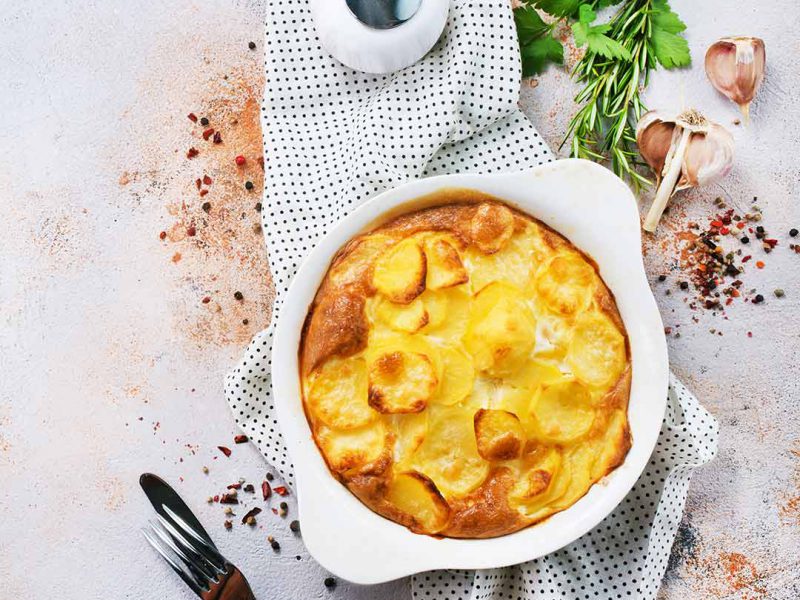 Good Earth Potato, Parmesan & Fennel Gratin
½
lb.
organic Yukon Gold potatoes, sliced
2
large organic fennel bulbs, halved, cored and sliced
6
tbsps.
organic whole wheat flour
½
tbsp.
organic black pepper
2
cups
organic whole milk
1 ½
cup
organic half & half
1 ½
cup
organic Parmesan, shredded
1
Preheat oven to 350ºF. Grease a 13x9 baking dish and set aside.
2
Heat a large pan over medium-high heat. Add the olive oil.
3
Add the fennel and spread out to encourage browning. Cook for 10-12 Minutes until golden brown.
4
Meanwhile, in a saucepan melt butter over low heat. Whisk in flour, salt, and pepper until smooth.
5
Gradually whisk in milk and cream, bring to a boil. Cook for 2-5 Minutes until thickened, stirring often to prevent scorching. Remove from heat and whisk in 1 c of the cheese until melted.
6
Combine potatoes, fennel, and cheese sauce. Transfer to the greased baking dish. Top with remaining 1/2 c cheese.
7
Bake for 1 1/2 Hours, until the potatoes are very tender and the top is browned and bubbly.
8
Allow to cool slightly and serve.