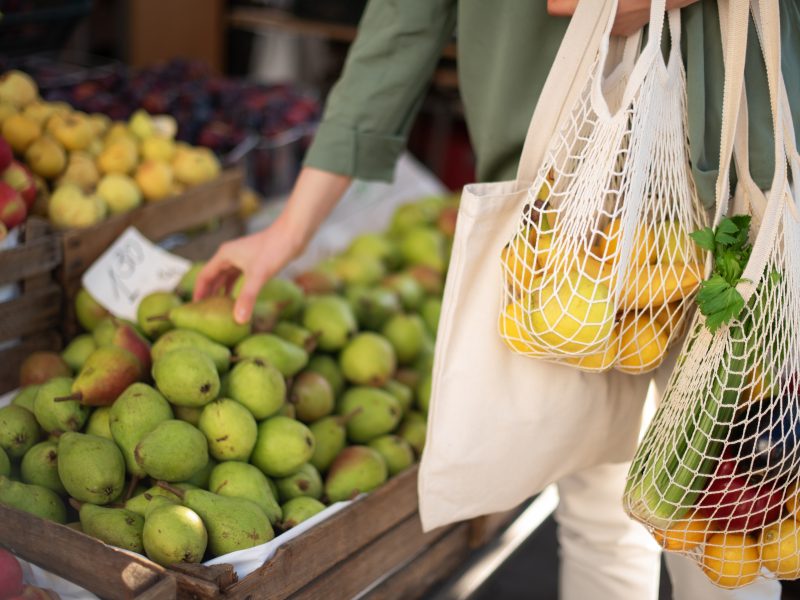 Shop More Sustainably at Good Earth
Summary
Our food choices matter, and the decisions we make on a weekly basis while doing our grocery shopping can have a big impact. In honor of Earth Month, we're sharing our top tips for shopping more sustainably in our stores.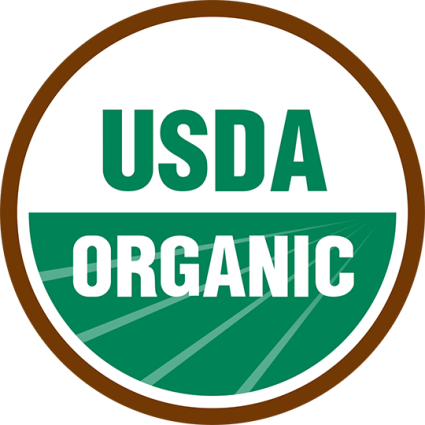 Go Organic!
Unlike chemically intensive industrial farming, organic systems work with nature instead of against it. Organic practices like the use of compost, cover cropping, and crop rotation build healthy soils that are able to sequester much greater amounts of carbon than conventional farming practices can achieve. Organic agriculture protects pollinator habitats and promotes clean waterways by prohibiting the use of toxic, synthetic pesticides and fertilizers. At Good Earth, we are committed to sourcing as many organic products as possible, and in some departments, like Produce and Bulk, we've already reached our goal of offering a 100% organic selection.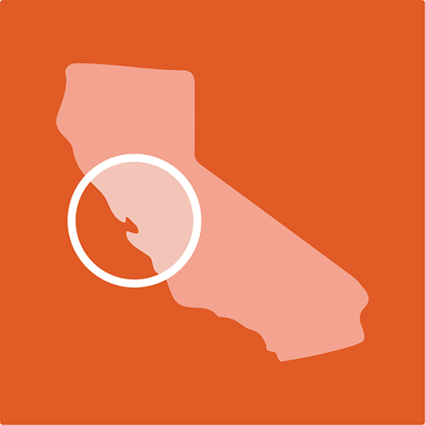 Look for Local
Locally made products require far less transportation to get to our stores than products grown and produced in other states and countries. As part of our Labeling Guide program, we include icons on all of our shelf tags to make it as simple as possible for customers to find products that are in line with their food commitments and dietary needs. Products that are grown or produced within 100 miles of our stores feature a 'Local' icon on their shelf tags.  Additionally, on our Produce signs, we detail the number of miles a piece of produce has traveled to reach us, as well as the farm it was grown on, so that shoppers can easily support local growers.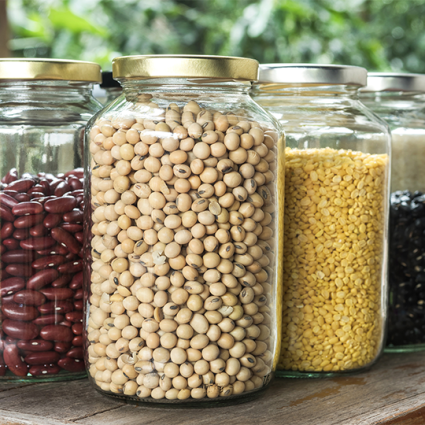 Buy in Bulk
We have an extensive Bulk Foods department, featuring dry goods, herbs, spices, coffee, tea, miso, tofu, liquids like olive oil, maple syrup, soy sauce, and more. You can buy as little or as much as you'd like in our bulk sections, and when you buy in bulk you can eliminate most of the packaging, as well as save money.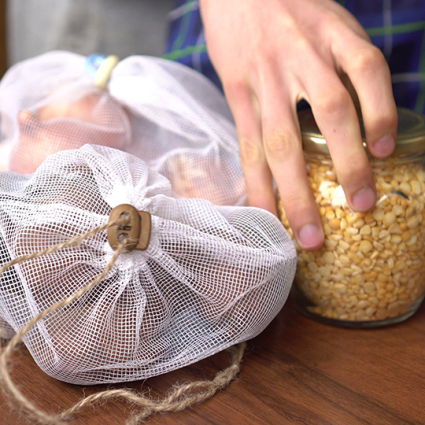 Bring Your Own Containers and Bags
Use reusable containers and bags for bulk and produce purchases, and to carry your groceries. We offer a 5 cent credit for every reusable container/bag you bring from home! If you forget your own container, we sell glass mason jars, bottles, and a multitude of cotton drawstring bags.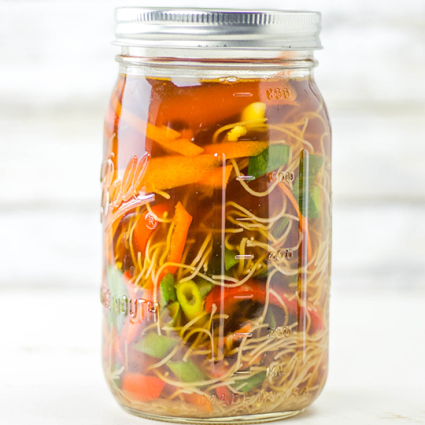 Carefully Consider Packaging
When buying pre-packaged goods, look for items that can be easily reused like glass soup containers or milk bottles. As an example, small jam jars can be repurposed as spice containers and refilled in our bulk herb department. Try to avoid convenience packaged items whenever possible. Pre-washed salad mixes in bags or clamshells, single-use water bottles, and individually wrapped cheese slices create unnecessary waste and are usually packaged in plastic.
Weigh your alternatives and try to make the most sustainable choice. For instance, if you tend to eat a lot of yogurt, skip the individual cups, and opt for a large, multi-serving container instead. If you typically use liquid body wash packaged in plastic, consider switching to bar soap with a biodegradable paper sleeve.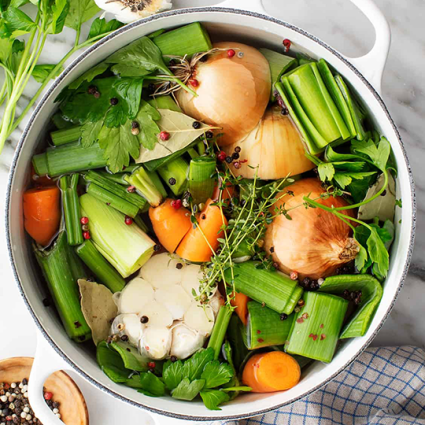 Plan meals strategically, buy only what you need, and eat leftovers
31 – 40% of the food purchased by consumers in this country is thrown away each year. Meal planning is the most effective way to reduce both food waste and food cost. As you plan your family's meals, consider how ingredients from one meal can form the building blocks of another. Revamp your organic leftovers, and try to use everything when you cook. Last night's roasted chicken and vegetables can be easily transformed into tomorrow night's chicken soup. Take inventory before you shop and come to the store with a list to cut down on unnecessary purchases. When it comes to perishable goods like produce, meat, and dairy, buy conservatively.
Join us in taking action for Earth Month. Commit to adopting one of the
sustainable shopping habits above.